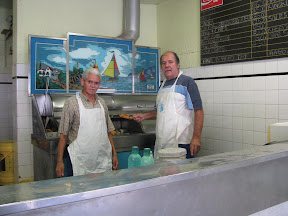 The City Bowl today retains but a remnant of what was once a lebedieke community of Jews, who filled the roads and avenues of Vredehoek, Gardens and Oranjezicht, and packed the pews of the shuls of the area.
While dissipated today, its colourful personalities largely forgotten, one man not even a member of the Jewish community harbours a host of fond memories and insights, and looks back to that era with a smile and a real sense of sadness at its demise.

At the end of this month Fernando Dionisio will be closing the doors of the Gardens Fisheries, some 40 years after his father Alfredo moved from his original premises in Mill Street in October 1967 to this shop where, Fernando recalls his mother Adelina telling him, their first customer was Bennie Diamonds mother.
An hour or so spent one late afternoon chatting to Fernando and listening to his reminiscences over the counter – while intermittently he served the odd customers with the last of the fried fish and chips of the day, generously laced with vinegar and salt was a wonderful trip down the proverbial memory lane, and a terrific appetite stimulus!
Fernando, who had helped his parents in the shop during his schooldays, joined them in February 1970 after completing a year of army service.
Hake was 32 cents a kilo then. Our old cash register couldnt go higher than R4.99! I used to deliver the fish on a bicycle, to Bridle Road and Rugby Road and all over Vredehoek and Oranjezicht, before I got my drivers licence!
So who were your customers? The names just flow and the list goes on and on. Not only does he know their names and addresses. He knows all about what they did for a living, who their children were, who married who, what happened to the families, where those who are still alive are now. Amazing! There were the four Lipschitzes, who he identified by what they did, to avoid mixing them up the car man, the chemist, the lawyer, and Anne Lipschitz from Rocklands Avenue, of course. There was old Mrs Cohen and Mrs Chait we called her Mama very nice people ( my in-laws, by the way). There were the Norries, the Kawalskys, the Trojeskis, the Tworetzys, Mrs Katz from the bakery (no convincing him that her name wasnt Katz!), the Kayes (the Dr), Mrs Meyerowitz, Mrs Kleinberger, Mrs Dickman, Mrs Coscia, Mrs Gottlieb, Mrs Pinn (the wife of the man from the shul)
With virtually every name comes where they lived and all sort of other info and a spot of skinder too. And as we chat more names get added who can not be left out old Mrs Marin (Anthonys grandmother, Mrs Beck (her daughter), the Mosbachs, the Kasimovs, the Lewins (we cant leave out Alfie)
And Cantor Immerman. He used to come into the shop and as customers came in, he would tell them who they were, who their mothers, fathers, sons, daughters were, when they had their barmitzvahs He used to walk from his flat in Rugley Road, up to Ludlow and all the way down Vredehoek Avenue.
People came to Gardens Fisheries from all over the peninsula Camps Bay, Sea Point, Milnerton even Constantia. And we never advertised.
Do you know, says Fernando, in those days the 70s and 80s we used to sell 3 ton of hake a week. Not to mention the kingklip, soles, kabeljou, Cape salmon and red steenbras.
And the Jewish holidays? Oh, then we were very busy. I had to get started at 4 in the morning and work all day preparing the gefilte fish mix hottentot and red roman and silver fish mixed with the hake. There was always plenty available.
Except one year, apparently, there was a bit of a shortage.
There was just enough to go round for everyone for Yomtov. Mrs Katz, from the bakery, came in. She wasnt interested in shortage. She went straight to the cold room, opened the door, took out a fresh fish and walked out saying, You can charge me whatever you want.
Recollections flow.
I remember when it was the day of the fast. The parents would come past on their way to shul and say, If you see my children and they look like theyre going to faint, just give them some chips and Ill pay you tomorrow.
And then, with a sigh, Im going to miss a lot of people.
One time, Fernando remembers, there was a debate on whether kingklip was kosher.
Rabbi Duschinsky came to the shop. He took a fish by the tail and started to scrape. There were very fine scales. Yes, he announced. Its kosher.
All of our raw fish was kosher. Rabbi Maizels came to check. We never sold shellfish. Even today. Do you know that last year, for after the fast, we fried 700 stockfish fingers!
Apparently one of his kosher customers today comes in the morning and switches on his fryer. That makes it all okay. Another kosher customer brings her own knife and board.
But the Jewish custom has diminished, as have the supplies and variety of fish available. Which explains why Fernando has decided to shut up shop.
Today I can only get hake and kingklip. The rest all goes to the hotels, supermarkets and restaurants. Today I have to go to the airport at 5 in the morning to get fish which is brought in by a company from Mossel Bay.
And the customers just a handful. Thank God for those who still support me. Today, for the young, its one-stop shopping Pick n Pay and the supermarkets the Woolies babies, I call them.
I remind him of his reputation as making the best slap chips in town. Yes, your daughter Lisa said that on Cape Talk. And my sales just went up and up.
Well, Fernando has not been alone in achieving his top spot. Gary Cornisch has been my right hand for 28 years. He came to me when he was 16.
Fernando also has a fine family. His wife, Alma, worked with him for years, till, I presume she could no longer look a fish in the eye. Actually she used to do his deliveries, even when she was pregnant. Her final delivery wasnt a fish!
They have three sons, all in fine careers, thanks I would imagine to the proceeds of hake and kingklip and a very hard-working Dad. And one granddaughter of 7 months.
Most considerately Fernando is giving us one last Pesach before he closes shop at the end of April, leaving us regulars to fish in new waters. A major feature in our lives will be no more and we are none of us happy.
And you, Fernando, what will you do now?
Im going to have a bit of a break and then Ill find something to do. I can not sit at home and do nothing.
Well, after handling the fish needs of the Jewish community for about 40 years, Fernando, you probably do qualify for a break. And perhaps, as you sit in contemplation on a river bank, under a weeping willow with fishing rod in hand youll think back on a long and happy association with people in whose lives and pots and pans you played a vital if fishy part.
Sounds good, he confides, but I gotta tell you, Ive never caught a fish in my life!