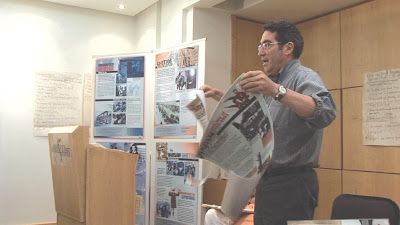 The South African Holocaust Foundation (the recently formed umbrella organisation of the Holocaust Centres in Cape Town, Durban and Johannesburg), in partnership with Yad Vashem, has established an exciting Fellowship Programme to support teacher training across the country. The programme has been endorsed by the National Department of Education
In March this year, 21 senior educators from provincial regions, accompanied by education personnel from the SA Holocaust Foundation, will be attending a two week, specially designed programme at the International School of Holocaust Studies in Jerusalem. The programme is being fully sponsored by Yad Vashem.

An intensive preparatory 3-day workshop for the Fellows took place at the Cape Town Holocaust Centre, 27 – 30 January. This was an opportunity for key provincial educators to grapple with the challenges of the national curriculum, the rollout of teacher training in Holocaust education in their provinces and the pivotal role they have undertaken to play. Mr Tony Raphaely generously sponsored this preparatory workshop which was facilitated by the SA Holocaust Foundation's skilled team of educators, including Marlene Silbert, Rosemary Gon, Richard Freedman and Tracey Petersen of the Cape Town Holocaust Centre and Tali Nates of the Johannesburg Holocaust Centre.
On their return from Yad Vashem the Fellows will, together with the SA Holocaust Foundation, ensure that History and Social Science teachers across the country have the training and support necessary for the teaching of this important and mandated section of the national curriculum.