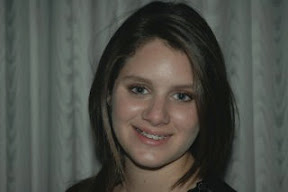 Sixteen year-old grade 10 Herzlian, Simone Abramson, has become a major media celebrity after winning the top award for the best female project at the National Eskom Expo for Young Scientists, held at Pretoria University at the end of September.
Her 'The Future of Identification' project had won her a gold medal and 'Best Project by a Female' award out of 480 entrants at the earlier regional leg of the event at the MTN Science Centre at Canal Walk on 16 August.
Simone's device involves a new method of identification of human beings by calculating formulae from four unique measurements derived through a Fundus photograph of the back of the eye.

To verify the procedures, Simone photographed 1000 randomly selected people. The process, complex for the layman, will provide major benefits.
"The most obvious," says Simone, "is for an identification system to replace the assigned ID number given by governments of all countries."
Her national award has won her a trip to Libya next year to exhibit her project (involving a 500 page logbook) — which is provisionally patented — at an International Science exhibition. She has also been awarded an Engineering bursary by Eskom as well as a bursary by Murray & Roberts to study in whatever discipline she decides to pursue.
This attractive young woman affirms the belief in beauty and brains. Nor do brains preclude physical talent — she's in Herzlia's tennis and squash teams.
By time of going to press Simone will have been featured in more than one newspaper and publication, interviewed on eTV and had her picture on the cover of November issue of Get It magazine.
And all of this began because, earlier this year, her diabetic grandfather, Max, was sent to have a Fundus photograph taken of the back of his eye, stimulating his scientifically-minded granddaughter to make of it a project!
Meanwhile parents, Stan and Urlene, younger brother Davin and family, as well as Herzlia are enjoying the 'fall out' of the young scientist's success.
And, an additional 'win' for Simone, though not connected to her Expo activities, has been her selection as one of South Africa's brand ambassadors for Hip2B² a programme of the Mark Shuttleworth Foundation, which promotes the sciences among schoolchildren of all ages.
2007 is clearly the start of big things for this young scientist.