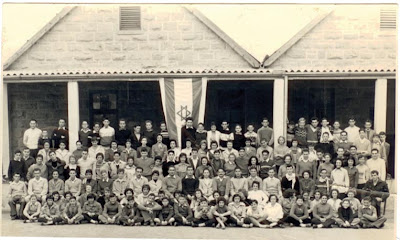 In June 1958, 121 delegates gathered in Oudtshoorn for a Young Israel Rally Most of the delegates were from Cape Town, with others from Port Elizabeth, Johannesburg and Oudtshoorn.
A group of those now 'veteran' delegates are entertaining the possibility of having a 50th reunion for both the 1958 and 1959 Rallies in Cape Town next year and they are hoping that someone could produce a similar picture taken at the 1959 Rally.

Mandy Shevel, Vernon Katz (in Australia) and Alan Kaimowitz have managed via traversing oceans to identify two thirds of the people in this picture.
As it is not possible to list the names of the identifieds here, the idea is that anyone who recognises him or herself or anyone else in the picture should make contact with one of the – shall we call them 'triumvirate' – Alan: alan@imprints.co.za; Mandy: shev@handispex.com, or Vernon: vernon@ bigpond.net.au, to advise precisely where they are placed in the picture – Row, number from left or right, seated etc. An example would be: Alan Kaimowitz, third Row, 14 from left. Any queries? Call Alan: 083 4470877 or 021 434-7477 (work).